Wow! I'm so excited about A+ Content. This is something new that self-published authors can now add to their Amazon pages. If you're a reader, isn't it fascinating all the extra little skills we writers add to our toolbox.
What is A+ Content you ask? It's all kinds of extra information you can add to your Amazon page to enhance your books. I've just started digging into this, and what it can mean for me as an author and for my readers. For my first project, I created this image:


Pretty cool! How did I do this you ask? I used Book Brush to create the image, but you can use Canva, Photoshop, or any other image creator. If you use BookBrush.com (the easiest way) after you log in, click Custom Creator. Then click the Amazon button on the left-hand side. That will bring up the stacked standard Amazon image template. Then add your background, your image, and your text.
The image can then be loaded onto Amazon's A+ content site which you can find on your KDP dashboard. Go to the book you are interested in adding your A+ content to, then click Promote and Advertise and scroll to the bottom to enter the A+ module. I selected the standard image with dark text, uploaded my images one by one, and voila!
There is so much more that can be done using A+ Content. This is just the beginning of my learning curve, and I must say, I'm excited to get started and learn more!
To follow my Amazon A+ adventures, and see all my books on my Amazon Author Page
If you want to learn more about me, check out my website – www.cynthiacooke.com
If you're interested in my books I have a book free on KDP through the 12th.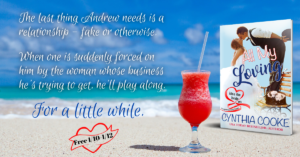 Or a free novella if you sign up for my newsletter
Thanks for reading!
---
Join the Authors' Billboard Newsletter mailing list and get a newsletter filled with new releases and books on sale every Friday.
Start out your subscription with a free book!
First published in 2003, Cynthia Cooke is an award-winning author who has published 18 novels in 12 different countries with Harlequin, Entangled, and Amazon Kindle Worlds. She has a deep affection for romance stories and playing in the ocean. On her best days you can find her on the beach with her notebook, a novel in hand, and her dog, Angel, by her side.
Embrace the Seduction and prepare to get naughty and have a little fun!
Visit her website at cynthiacooke.com