Revenge is without a doubt the greatest motivator of all times. People will commit unspeakable deeds in the name of revenge, and why? Because when we perceive that we've been wronged, most of us simply can't walk away. Wars have been waged, blood feuds created, all because one person didn't find the retribution they wanted, as Homer and Bart show us.
But not all of us can get our revenge as easily as Homer does. Some of have have to plot and plan. The problem with revenge is that it's all consuming. It eats away at you day after day, week after week, keeping the wound raw and open. If you are plotting revenge, it constantly preys on your mind. It can stop you from sleeping, from moving ahead in life, from ever being happy.
In Titus Andronicus, William Shakespeare said:
We've all been there, probably more often than we'd like to admit. Hollywood has made a fortune on movies with revenge as a theme. Think John Wicks, Cape Fear, The Count of Monte Cristo, even Moby Dick.
At one time or another, we've all felt the need to retaliate against someone who's harmed us in some way. Most of us have been victims of bullying, either as children, teens, or adults. We've imagined creative ways of getting payback–a zinger of our own. an orchestrated trip, a nasty message on social media where anonymity gives us power. Still, rarely will we plot to kill someone and then follow through. To me, one of the best movies that shows the subtle and not so subtle bullying and revenge is Mean Girls.
While we've all had to deal with bullying, not all of us end up obsessed by it. Some of us can walk away, because the best revenge is to succeed where you were expected to fail.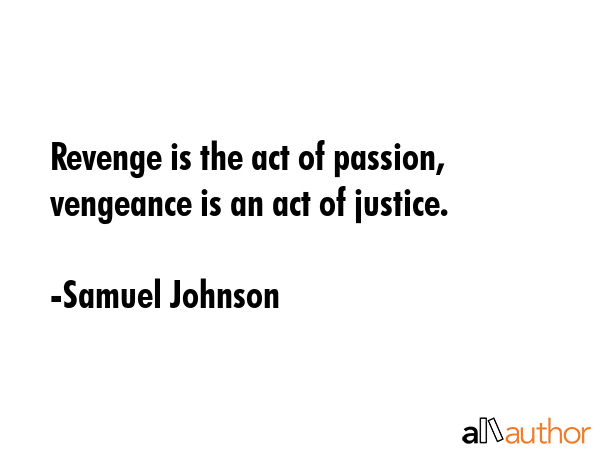 Sadly, few people understand the difference between revenge and vengeance. In Fire Angel, the second book in my five book series, Vengeance Is Mine, both revenge and vengeance are explored.
Everything happens for a reason.

Criminal profiler Jake McKenzie returned from Afghanistan minus a leg, determined never to let anyone get close enough to hurt him again. When his old friend asks him to help with a serial arsonist case, he jumps at the chance to prove his worth, but as the bodies pile up, he realizes he needs help. He convinces the chief to bring in a fire investigator, stunned to discover that the woman is none other than the girl who vanished from his life twenty years ago.

Alexis Michaels fled Paradise and an abusive uncle only to almost die in a fire that left her scarred not only on the outside, but on the inside, leaving her with psychic abilities. With that gift, she's climbed to the top of her profession. Her abilities may be the only thing that can find and stop the Fire Angel, a pyromaniac turned revenge arsonist serial killer who's slowly turning a peaceful town into Hell on Earth. The problem is, to do the job, she has to return to the one place where she swore she would never set foot again.

Faced with confusing emotions and a killer who's made it clear he wants her to stay out of his business, Alexis must deal with the past before she can move on. But things may get too hot even for her as the Fire Angel moves toward the final act in his revenge drama.
The main plot focuses on stopping a serial killer, an arsonist who gets bolder with every move, exacting his revenge against those who wronged him.
A subplot deals with Alexis facing the man she believes ruined her life, an abusive uncle, now a broken man asking for forgiveness.
The romance is woven throughout the book as Jake faces his own demons and memories, fighting to learn to love and trust again.
You can pick up Fire Angel and seven other great suspense stories in Unforgettable Revenge: Glory and Satisfaction (The Unforgettables Book 21) for only 99 cents or read it free in Kindle Unlimited.
So, what's it going to be? Revenge or vengeance?
---
Have you entered our monthly contest?
Win a gift card to support your reading habit!
Click here to enter to win today!
---
Join the Authors' Billboard Newsletter mailing list and get a newsletter filled with new releases and books on sale every Friday.
Start out your subscription with a free book!
I'm a retired high school English teacher turned author. I'm Canadian. My husband and I have been married 48 years and have 3 children and 5 grandchildren, as well as 2 step-grandchildren.  I enjoy traveling, especially somewhere warm in winter.